Explore Our Products and Services
Choose your suitable interest rate for each kind of your business
How Seilanithih works for your Business
Seilanithih can help you in three easy steps

ANALYSIS YOUR BUSINESS
Our Credit officer will orient you regarding our loan and saving product and fill up loan application, submit documents.

VERIFY YOUR DOCUMENTS
Our Credit officer will check all the documents, conduct home visit and loan appraisal for approval.

LOAN DISBURSEMENT
Our Credit officer and accountant/cashier verify all the document (photos, signature, thumb print) to make cash/loan disbursement.
FAQs
How Seilanithih helps the poor?
Seilanithih helps the poor by providing loans that are affordable for the poor. It increases the income and builds village business and reduces their vulnerability. Microfinance can also be an instrument for self improvement by enabling the poor especially women to become self sufficient and economic agent of charge.
Why Seilanithih charge interest rate?
Like other financial institutions, Seilanithih charge interest rate to their clients to become self sustaining or become stable. Managing many small loans cost more many than managing on the large loan. Seilanithih needs to charge interest rate to cover the operational cost.
Who can access the loan from Seilanithih?
Any individual person with small business or willing to start a small business are qualified to avail/access loan from Seilanithih. Those poor people who are willing to uplift their status of living people who income is below poverty line of income is less $2.50 to $3.50 per day.
What are the services of Seilanithih?
Seilanithih offer not only loans but also mandatory micro savings and credit with education.
Who are the clients of Seilanithih?
Seilanithih's typical clients are low-income people. Who do not have access to formal financial institutions most of Seilanithih clients are household based entrepreneurs, self employed usually farmers, service providers, street venders, non poor who have relatively stable source of income.
See all FAQs
Happy Clients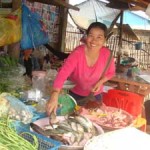 All Clients Success Business